January is School Board Recognition Month! Coahoma ISD is honored to celebrate its trustees for their dedication and commitment to our students and our community.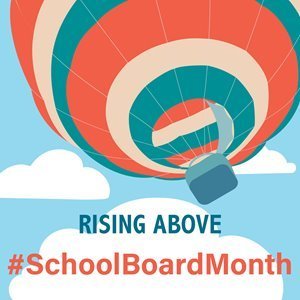 The 2020-21 Federal Report Card and 2020-21 Texas Academic Performance Report (TAPR) are now available on our website under District Information. The Federal Report Card is also available on the Texas Education Agency's website at
https://tea.texas.gov/Finance_and_Grants/Grants/Federal_Report_Card/
If you have difficulty accessing the information from the website, hard copies of the reports are available upon request at the Administration Office.

Elementary Pie Pickup Tuesday December 14th from 3-6pm Door 21 (competition gym entrance) ALL pies must be picked up- students with 1 or 2 will take their pies home after school.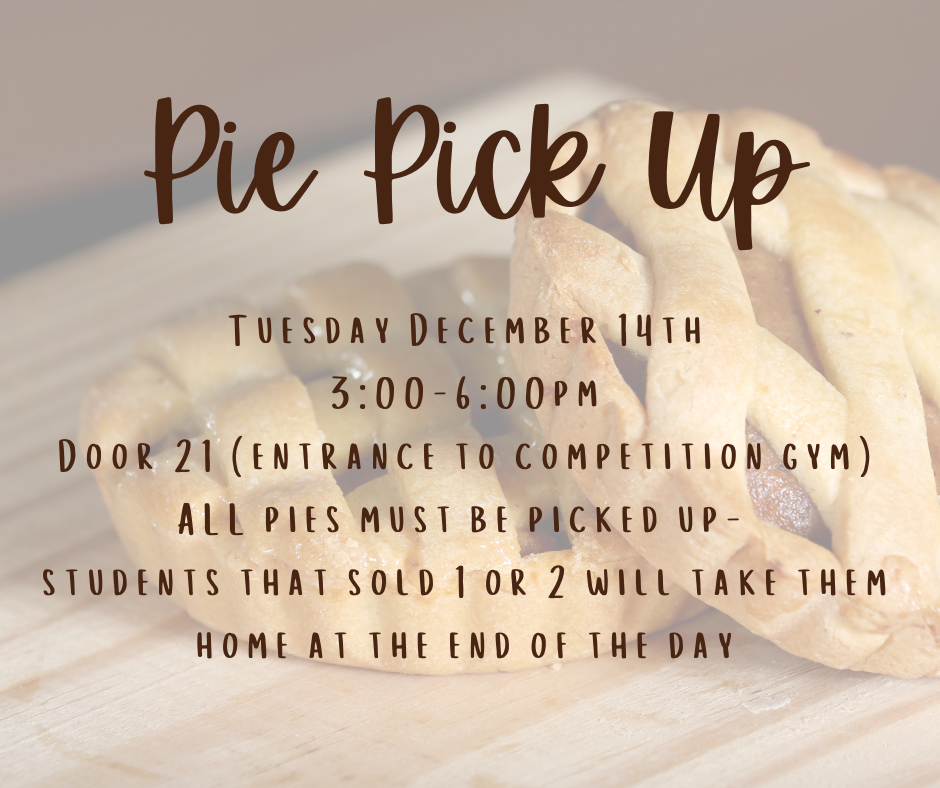 Coahoma Junior High is honored to have two veterans on our campus! 🙌🏼 thank you to Mr. Martinez, Mrs. Bose, and all of our veterans for your service!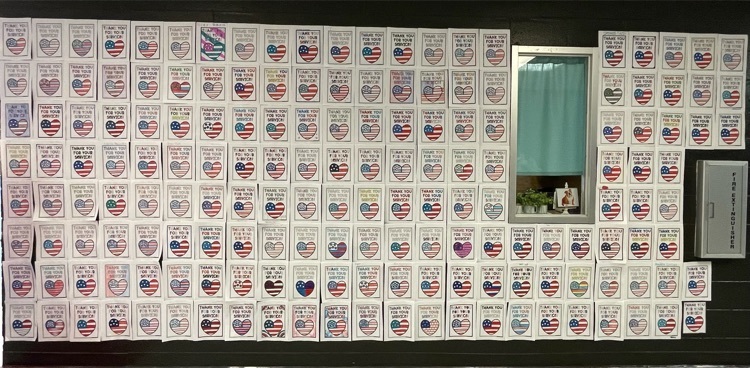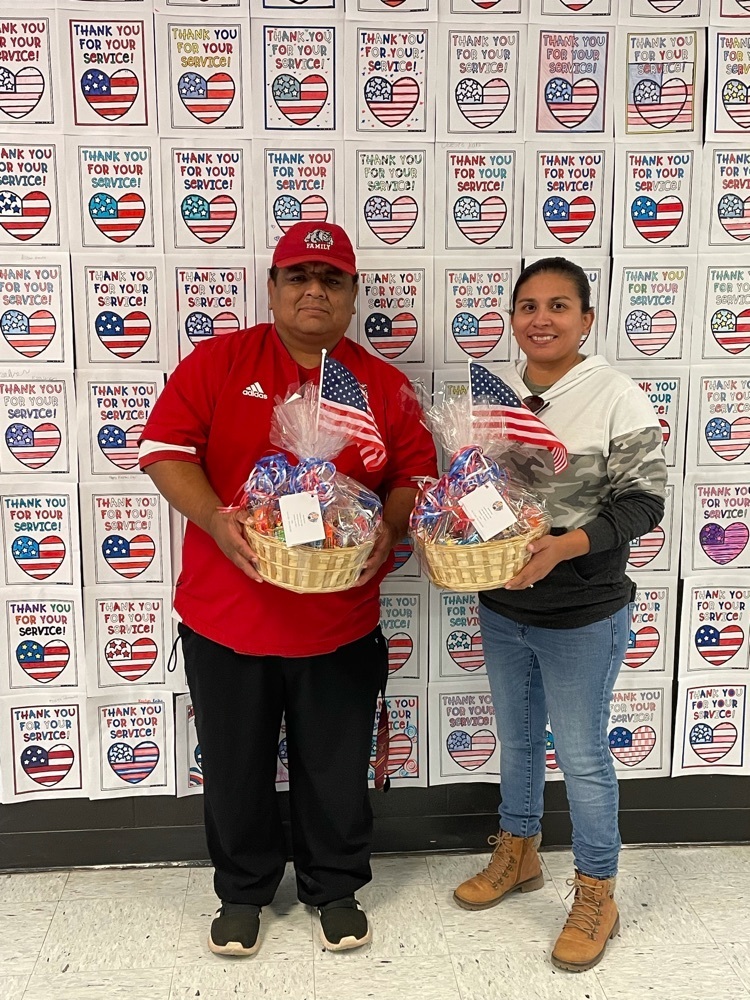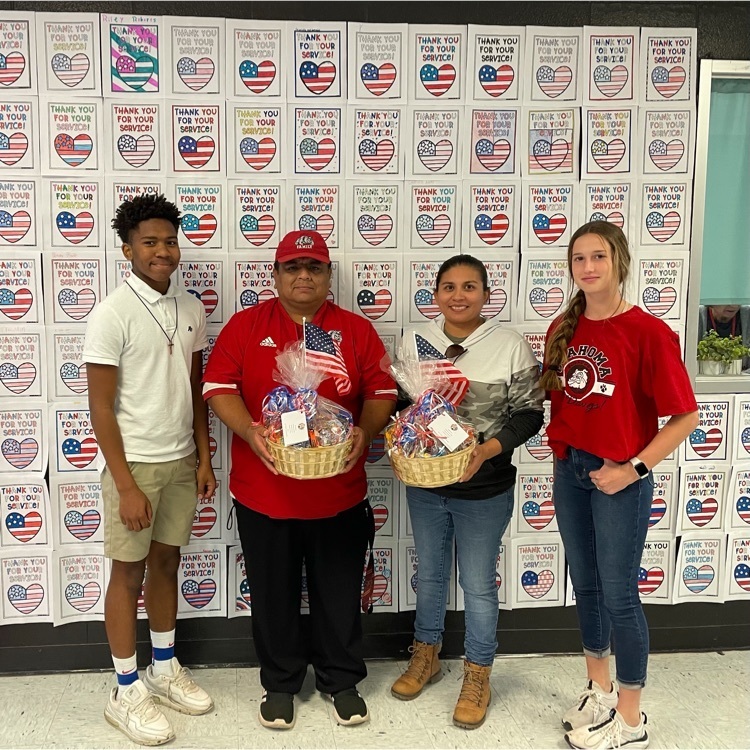 Happy November! Here are the lunch and breakfast menus for this month!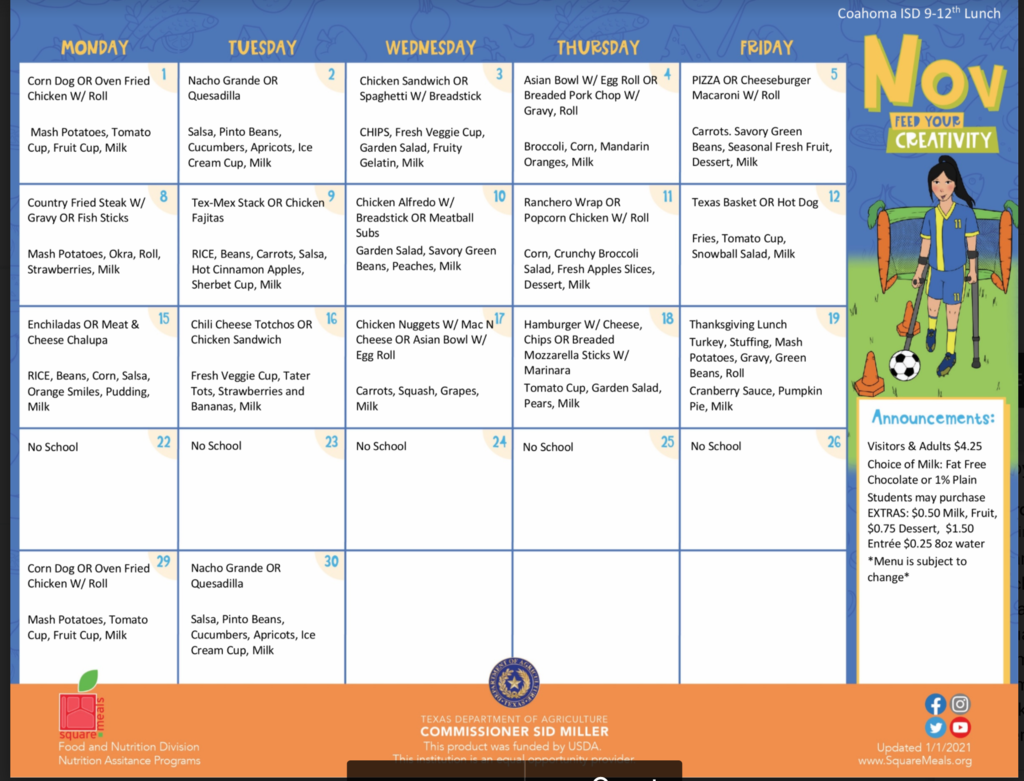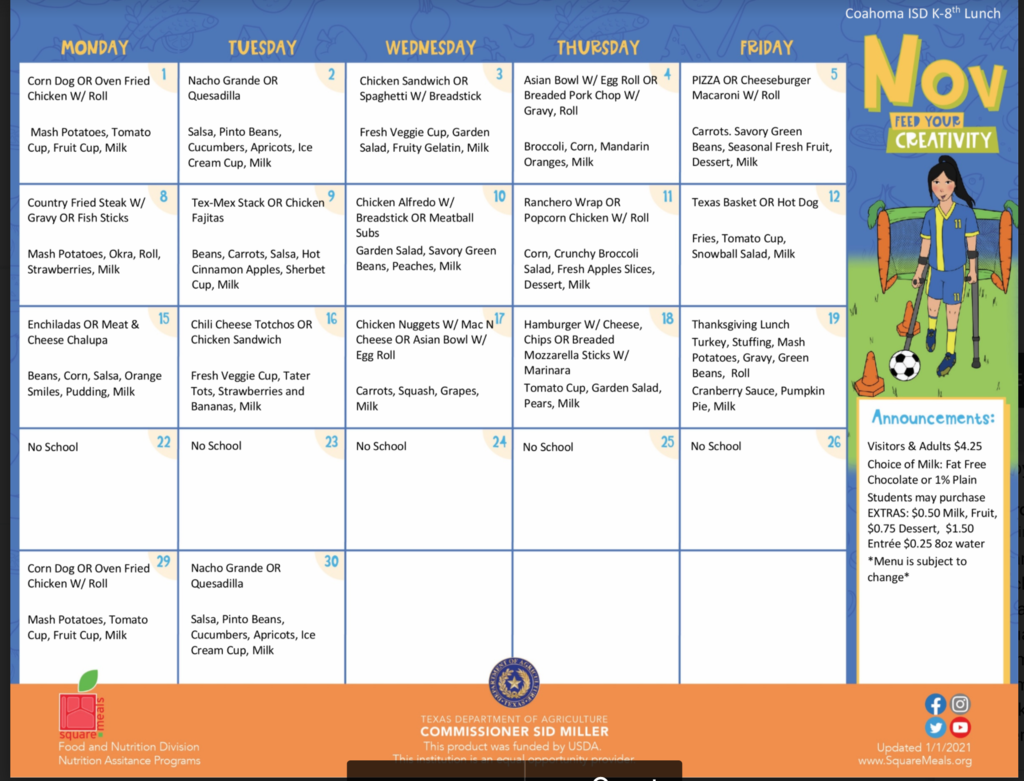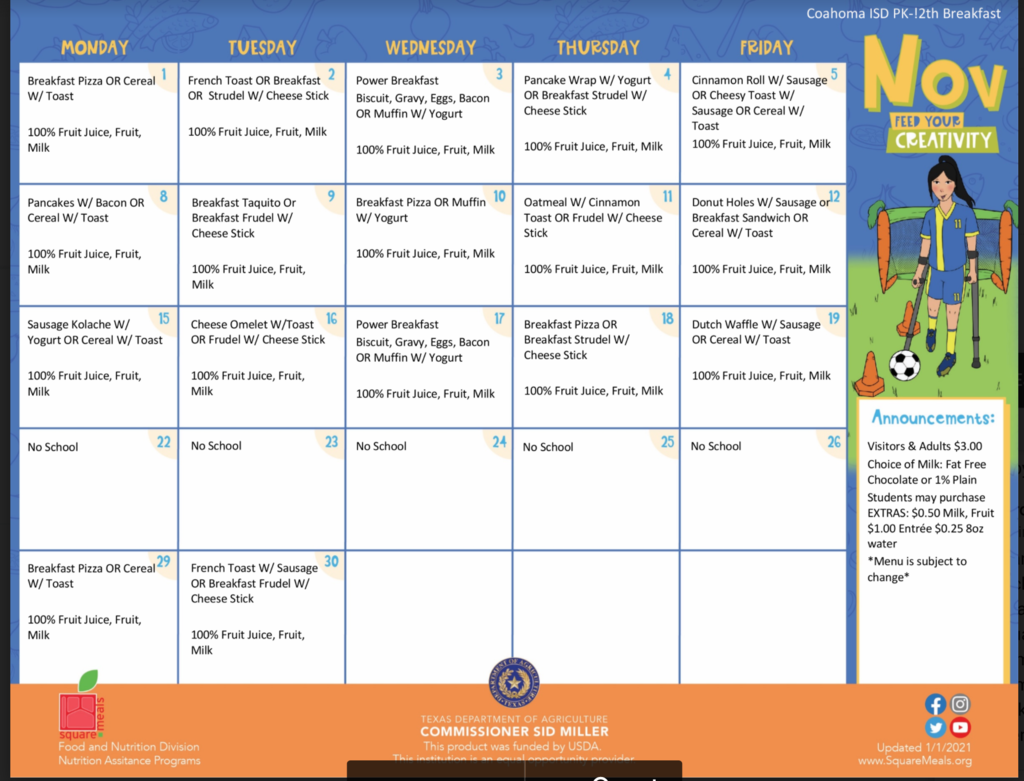 CISD FALL FESTIVITIES!!!! October 23, 2021 Come out and join us for some fall fun! 5-7 PM Lion's Club Pancake Supper in the Cafeteria 5:30 PM Title I Meeting in the Board Room 6-8 PM Fall Festival in the Junior High Gym 6-7 PM Living Museum in the Junior High Building 6-8 PM HS/JH Art Contest in the Cafeteria 6-8 PM Elementary Art Display in the Cafeteria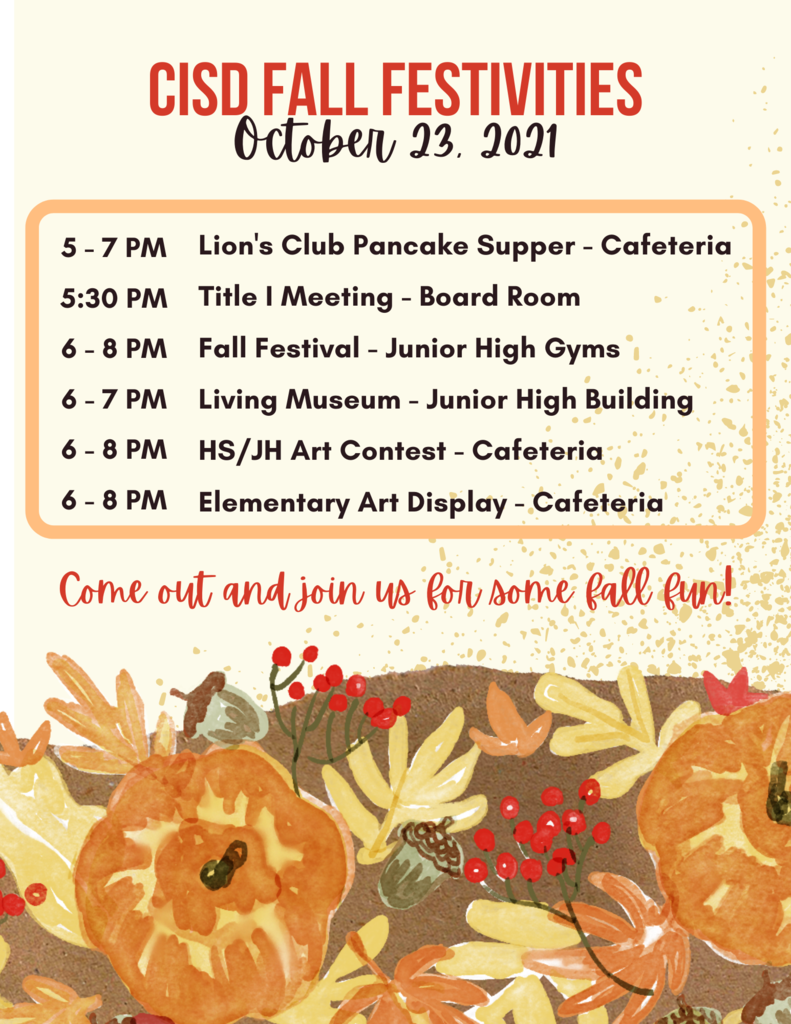 Shot Clinic Rescheduled! Friday, Aug 27 9:00-2:00 Elementary Board Room Offered by the The Dept of State Health Services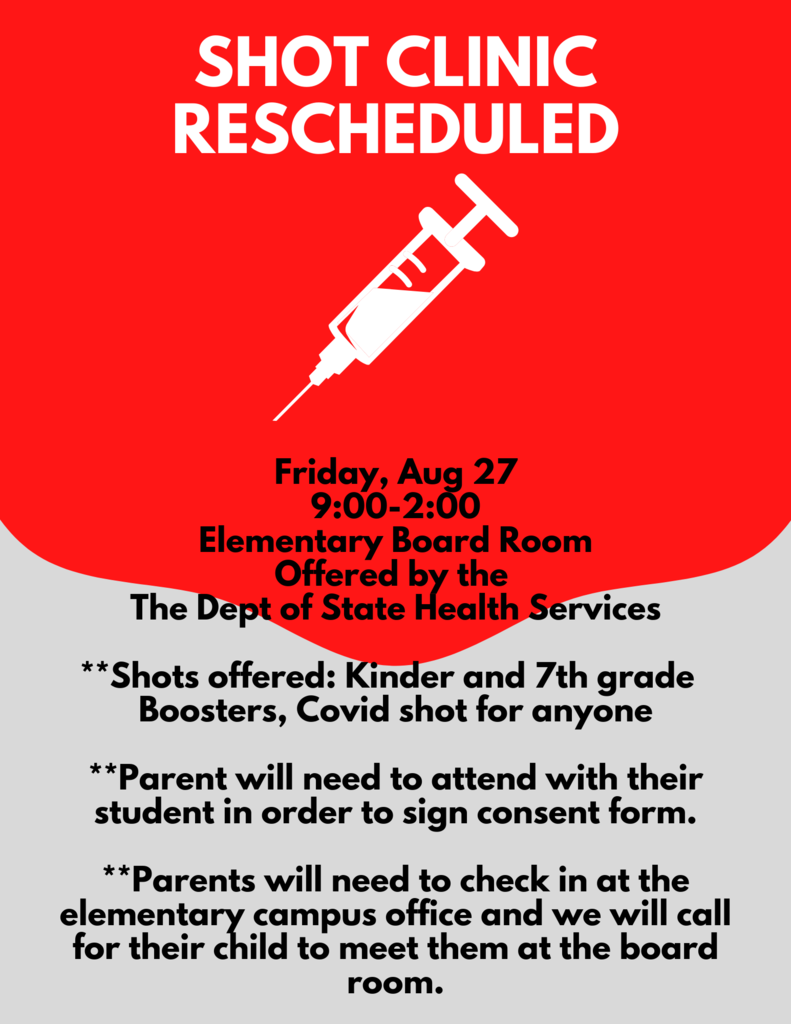 Mrs. Alvarez will be offering one final academy parent meeting zoom tomorrow at 12pm. Link will go live at 11:50. Please call 432-394-5000 tomorrow after 8am if you have questions or concerns. meet.google.com/jax-hnfu-hfh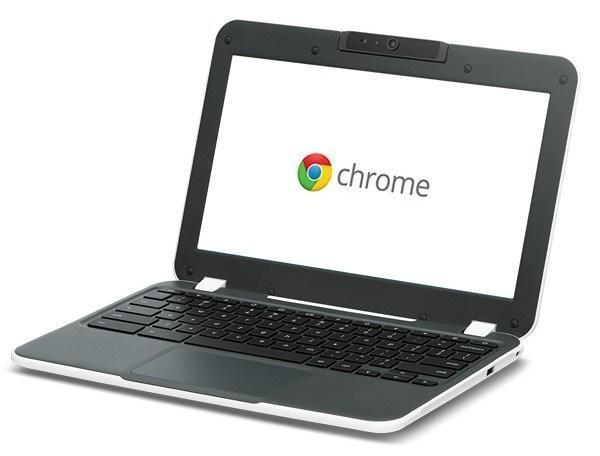 Last Chance Academy Meeting!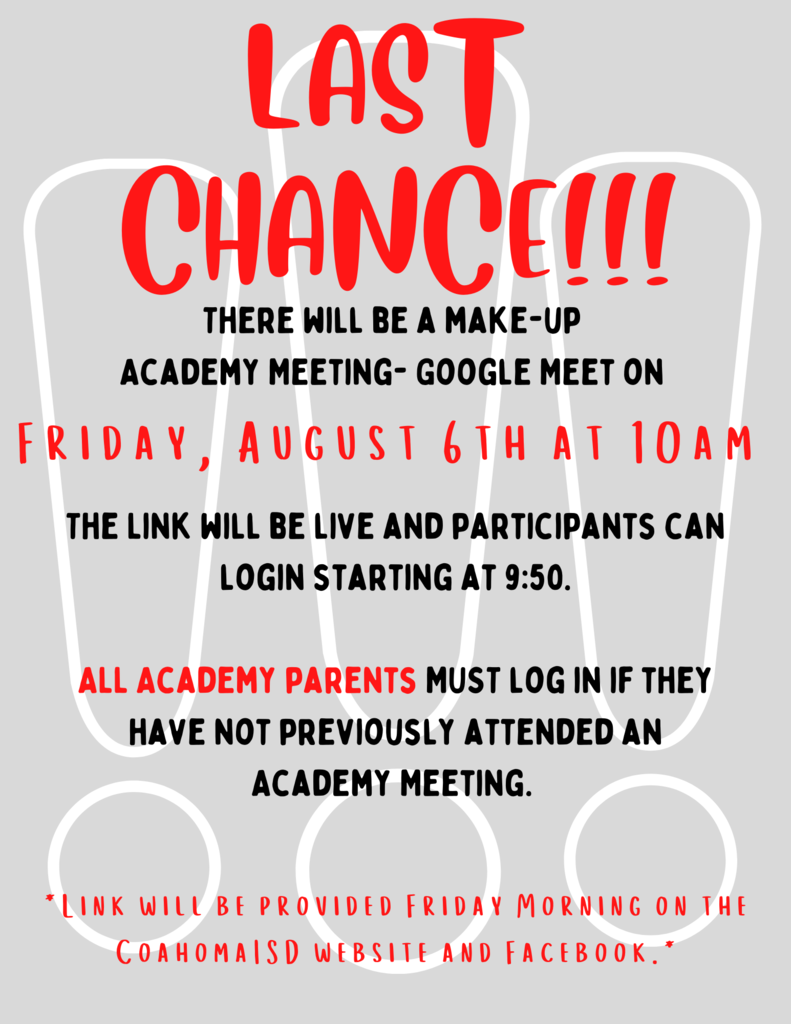 Academy Google Meet at 10am! Here's the link: meet.google.com/mpq-otdj-geg

Coahoma ISD students now have access to the West Texas Digital Consortium via the Sora app! New Students will receive their login information on the first day of school, returning students will have the same login information.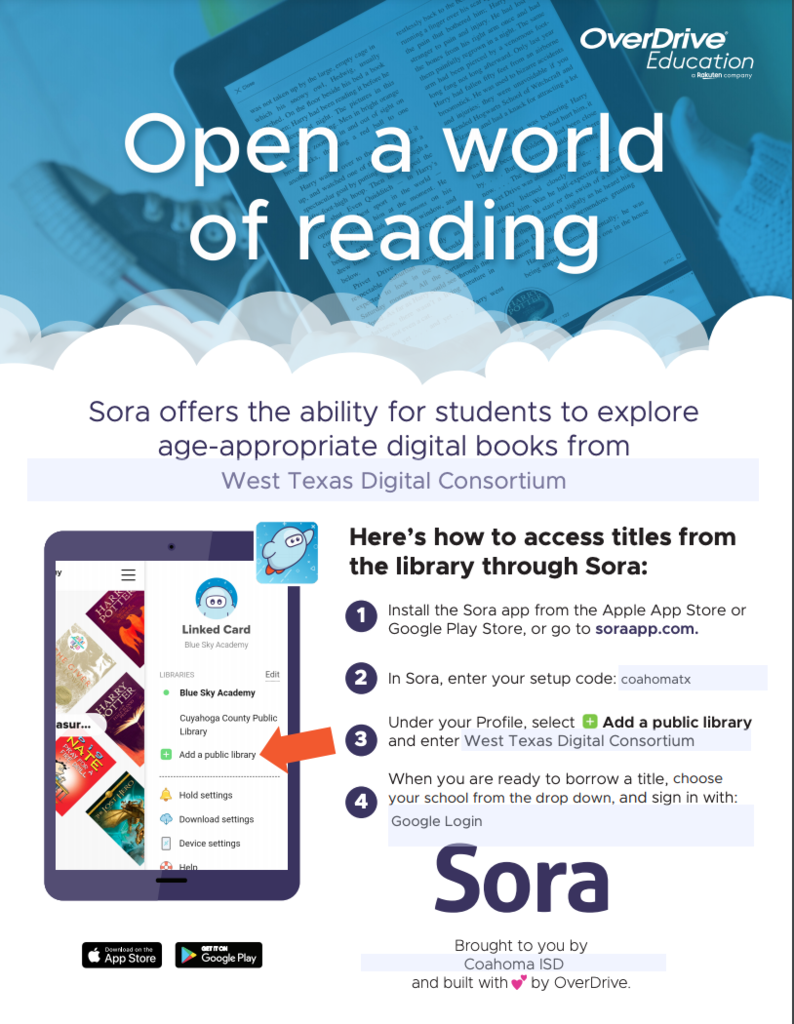 Senior Class of 2021! Your student emails will expire as of August 2nd at 8am. Please make sure to back up anything you need from your drives prior to this time.

Registration Dates for all students: Elementary Only: July 27 - 8:00-4:00 July 28 - 8:00-4:00 July 29 - 7:00-1:00 and 5:00-7:00 Junior High and High School Only: August 5- 8:00-4:00 August 6- 8:00-4:00 New Students do not forget to bring- birth certificate social security card immunization record parent drivers license proof of residence (utility bill with parent name, physical address) *Coahoma ISD will not be offering a virtual learning option this year* Please call 432-394-5000 with any questions.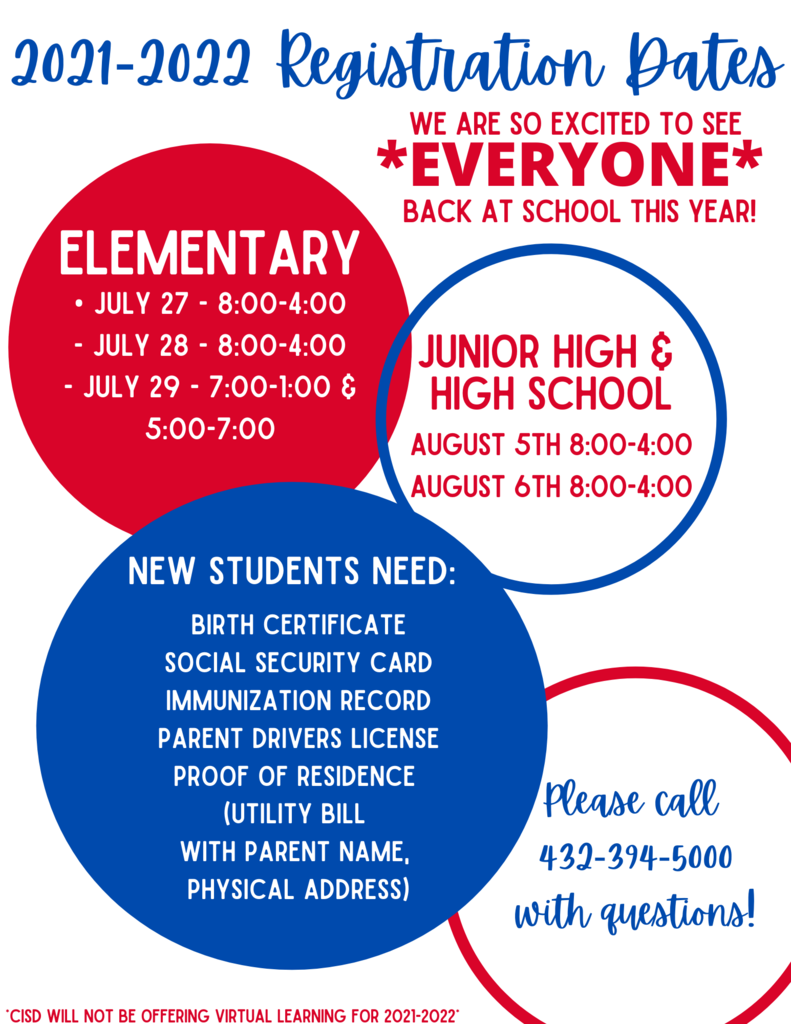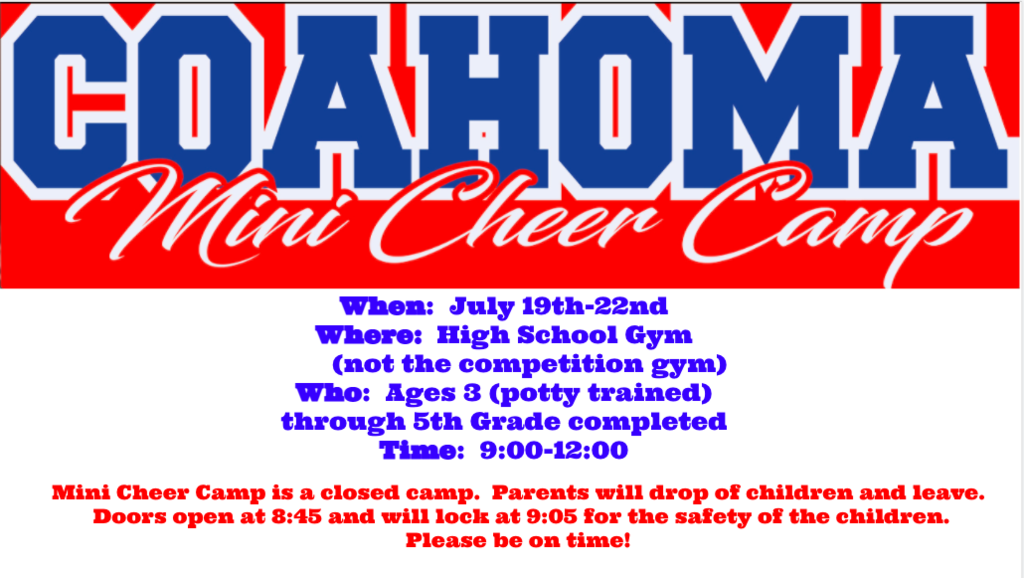 ESSER III Survey 2021-2022 Coahoma ISD is applying to receive Elementary and Secondary School Emergency Relief Funds (ESSER III) to address unfinished learning and COVID-19 recovery. These funds are designated for one-time or short-term expenditures to address the ongoing impact of the pandemic. We are seeking your input about where to allocate these resources. Please take time to let us know your opinion by clicking the link below to complete the survey.
https://forms.gle/VL6Kycw3shYC8wzJA