Fort Stockton Panther Stadium Guidelines: There are some expectations that the Fort Stockton ISD has in order to ensure the safety of visitors to Panther Stadium and to keep the new field in pristine condition. No unauthorized personnel on the field No parents or children past the locked gates before. during, or after the game. You will be escorted off the field by security. No chewing gum on the field No sunflower seeds on the turf No tobacco products on the field No unauthorized vehicles on the field Only water will be allowed on the field of play Thank you from Fort Stockton ISD

School will release on Thursday at 3pm. Pep rally will be from 10:00-10:25AM- JH will be in attendance. Head to Ft. Stockton High School and support our boys against the Anthony Wildcats at 7pm. Admission is $5 for adults and $3 for students.



Coahoma ISD is accepting referrals for GT services until November 8th. If you need more information about the referral and testing process, you can attend the meeting tonight at 5:00 at the elementary campus. coahomaisd.com/o/district/page/gifted-and-talented--28

Tomorrow instead of pulled pork sliders, the cafeteria will be serving Chicken Parmesan and Hamburger Steak!

Friday's pep rally is white out! Come get our dogs fired up for their game against Abernathy! 🐾

Smile for the camera! Picture day is TOMORROW for all students k-12! (Including senior composites!) We will only accept money while the photographers are here- after that you'll have to order online through Lifetouch!

VOLLEYBALL: JV White will play at BSJH and JV Red and Varsity will play at BSHS tomorrow at 10 and 11am! 🏐 🐾

The pep rally has been moved to the competition gym! See ya soon!


Don't forget the All School Reunion Brunch this Saturday at 9am in the Coahoma Elementary Cafeteria!


There will be a dual credit meeting tonight at 7:30 in the auditorium. Freshmen orientation will be Wednesday at 6:30 in the auditorium. Lots of good info at both! 🐾❤️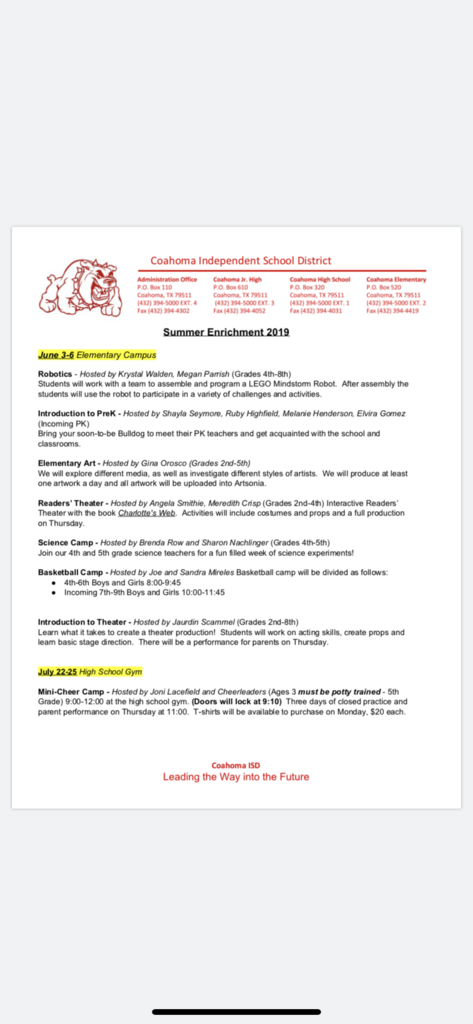 Due to the many activities going on this time of year and conflicts for many to participate, Coahoma ISD has decided to postpone this Fridays's heart screening until August after school comes back. We apologize for the inconvenience.
Nominations are now open for the 2019 Coahoma ISD Scholar Graduate. Please use the following link to nominate an outstanding CISD graduate for this year's honor. Nominees should be CHS graduates in 2009 or before who have made contributions to their career field or their community at the state or national level.
https://www.surveymonkey.com/r/3KCK8BP
This year's Scholar Grad will be honored at the Coahoma Scholars Banquet in May 2019.

The heart screening that was scheduled in March has now been moved to April 26th. If you have already registered, your appointment has been transferred to the new date at the same time. Cardiologists recommend this screening every other year so don't miss it! Students pay $10!