(Courtesy Photo/ Crane HS Band/The Coahoma Junior High School band performs at the Region 6 UIL Concert and Sight Reading in Crane.
CRANE — The Coahoma Junior High School Band continued its competitive season by bringing home top marks from the Region 6 UIL Concert and Sight Reading Evaluation held last week.
For the sight-reading portion of the evaluation, the band received a Division I (Superior) rating. During this part of the contest, band members had a limited amount of time to review a new piece of music before performing in front of three judges.
Coahoma also received a Division II (Excellent) rating for its performance in the concert portion of the competition. To prepare for this portion, band members spent months preparing to present their UIL program in front of a different set of judges.
According to junior high band director Daniel Money, the CJHS Band has not attended the UIL contest since 2017, so this was a brand new experience for all of the band students.
Last week's accomplishment highlights a very successful year for the junior high band. In January, five members performed in the All Region Band for Region 6, a group made up of the hardest working junior high band students from across Region 6.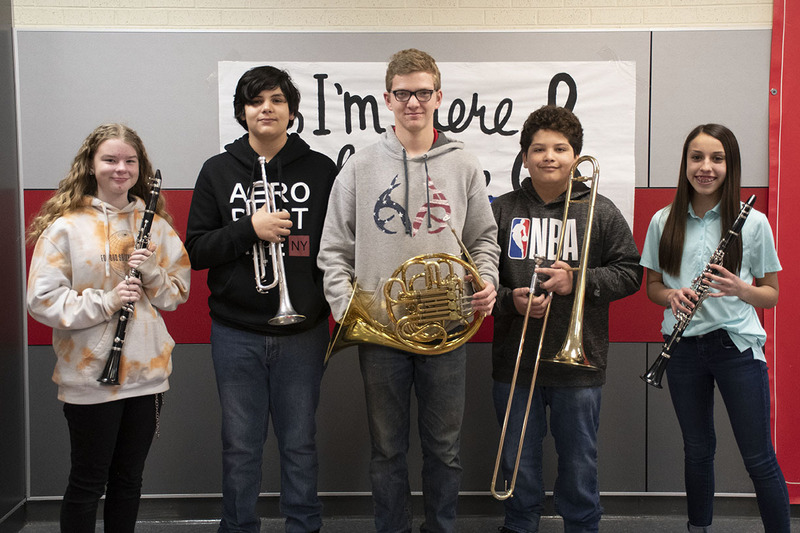 Members of the Coahoma Junior High Band performed in the All Region 6 band. Pictured from left are Lenora Nixson, Ian Garrido, Esan Sullivan, Antonio Alcantar, and Andrea Rochelle.

The Coahoma students were chosen through an audition process held at McCamey High School, which had more than 600 junior high school musicians participating in the competition.
Leading the way for the Coahoma musicians was seventh grader Lenora Nixson, who was selected for the top Honor Band. She earned the 15th chair in the clarinet section. Eighth graders Ian Garrido, and Esan Sullivan made the second Symphonic Band. Sullivan earned third chair in the French Horn section and Garrido placed eighth in the trumpet section.
Originally named as alternates, clarinet player Andrea Rochelle and trombone player Antonio Alcantar rounded out the Coahoma group, who performed at the All-Region Concert held at Crane High School.
To continue their competitive season, some members of the junior high band will be attending the Greenwood Music Festival on Saturday, April 30, where they will have the opportunity to participate in solo performances in order to earn even more successful ratings from judges.
The Coahoma Junior High School Band will wrap up the year on Tuesday, May 3, when they perform their spring concert in the Coahoma High School auditorium along with the beginner and high school bands of the CISD music program. The CISD music program is under the direction of Michael Cason with Daniel Money as the assistant band director.