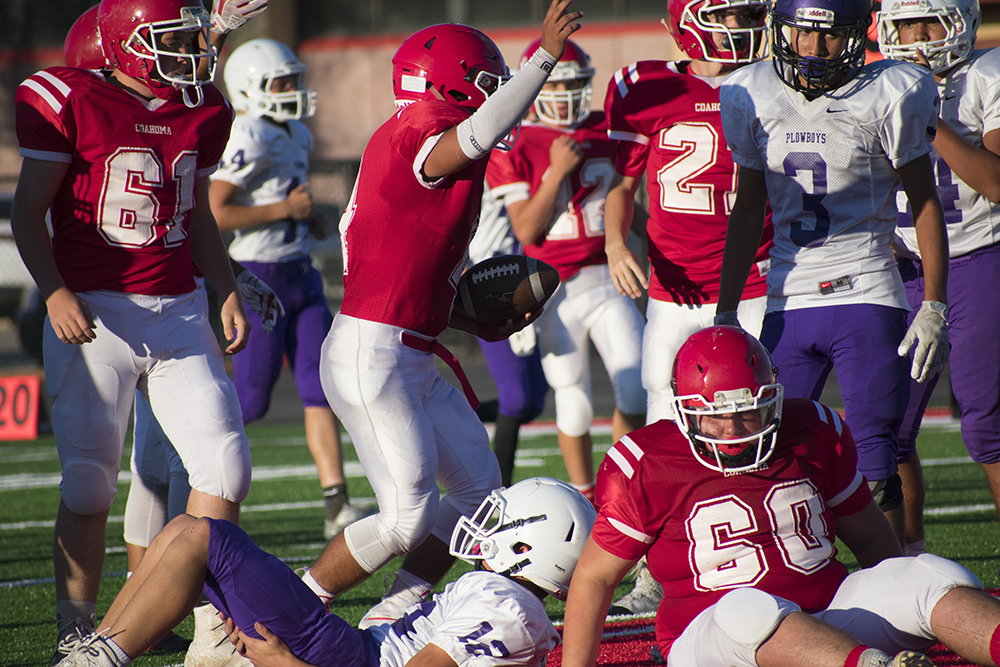 JV Bulldogs plow Roscoe
Lyndel Moody
Friday, September 14, 2018
Coahoma's Steven Erivas had a stellar game Thursday racking four touchdowns to help the Coahoma Bulldogs' junior varsity team plow through Roscoe, 42-20, at Bill Easterling Memorial Stadium.
The Bulldogs didn't wait long to put points on the board in the first quarter. Thanks to run by Erivas and a successful kick by Pedro Paixao, Coahoma grabbed a 7-0 lead.
The Plowboys answered back with a touchdown of their own and pulled to within 7-6. That would be the closest Roscoe came to threatening.
Late in first quarter, the Plowboys looked as if they would strike again after intercepting a CHS pass. The Plowboys, however, fumbled the snap on their first play of the possession. Moments later, Coahoma capitalized with an 18-yard touchdown run by Erivas.
With 43 seconds left in an opening quarter, Coahoma's Seth Brooks recovered a Roscoe punt and returned the ball for a touchdown. Brook's return put the Bulldogs up 21-6 heading into the second.
The Plowboys drove the field for a touchdown with 5:07 left in the half. They tacked on a successful two-point conversion and cut Coahoma's lead to 21-14.
Coahoma was far from through. Thanks to a big gain from a run by Isaiah Martin deep into Plowboy territory, the Bulldogs ended the half on a high note. Josh Ruiz capped the Bulldogs final score of the first half by scoring on a 1-yard run that upped the score to 28-14.
In the second half, the Bulldogs scored twice on runs by Erivas to close out the contest.
During Thursday's performance, Paixao showed he is a major asset for the team. He nailed all of his extra points easily.
Coahoma also garnered strong performances from quarterback Ky Kemper, Martin and Ruiz. All three helped lead the Bulldogs to their first victory of the season.
Coahoma, now 1-1, is scheduled to play Slaton at home on Sept. 20.
In junior high football, the Coahoma seventh graders won their showdown with Crane, 16-6. The CJHS eighth grade squad suffered a 40-0 loss to Wink.