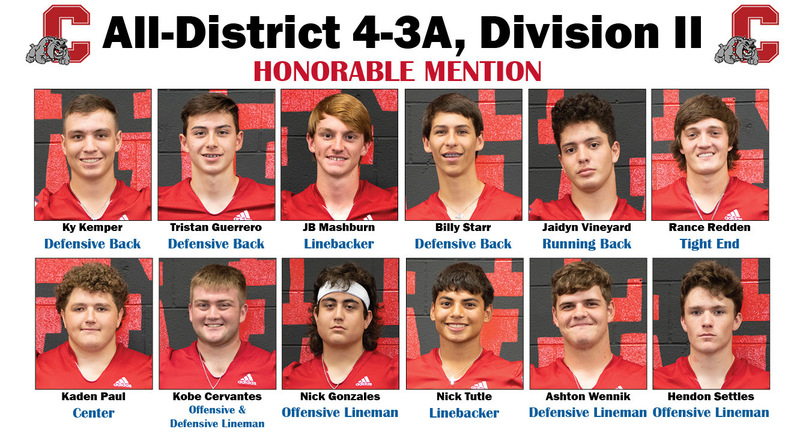 The Coahoma Bulldogs placed four players on the first team All-District 4-3A, Division II football squad. Coahoma had three players named to the offensive first team and one player on the defensive first team.
Making the offensive squad were running back Brysen Kerby and wide receivers Arian Emerson and Austin Perkins. Defensively, linebacker Rance Redden made the first team.
Kerby is a two-year all-district pick. Last year as a junior he was named to the all-state team. This year he rushed for 1,158 yards, averaging 5.6 yards per carry.
Emerson, a senior, had 21 receptions for four touchdowns. He also returned a kickoff 80 yards. Perkins, a sophomore, averaged 26.2 yards per catch and had five touchdowns.
Redden, a junior, was Coahoma's leading tackler, with 104 stops, 46 of them were solo. He also had a touchdown catch as a tight end.
Coahoma Al-District picks
1st team offense - Brysen Kerby RB, Austin Perkins, WR, Arian Emerson, WR.
1st team defense - Rance Redden, LB.
2nd team offense - Billy Bailey QB, Ky Kemper WR, Ashton Wennik OL
2nd team defense - Braiden Boaz,DL; Jaidyn Vineyard LB, Reagan Chapman K.
Honorable mention - Ky Kemper DB; Tristian Guerrero DB; JB Mashburn LB; Billy Starr DB; Vineyard RB; Redden TE; Kaden Paul C; Nick Gonzales OL; Nick Tuttle LB; Ashton Wennik DL; Hendon Settles OL; Kobe Cervantes, OL, DL
Academic all-state - Mashburn, second team, Starr second team, Kerby, second team.