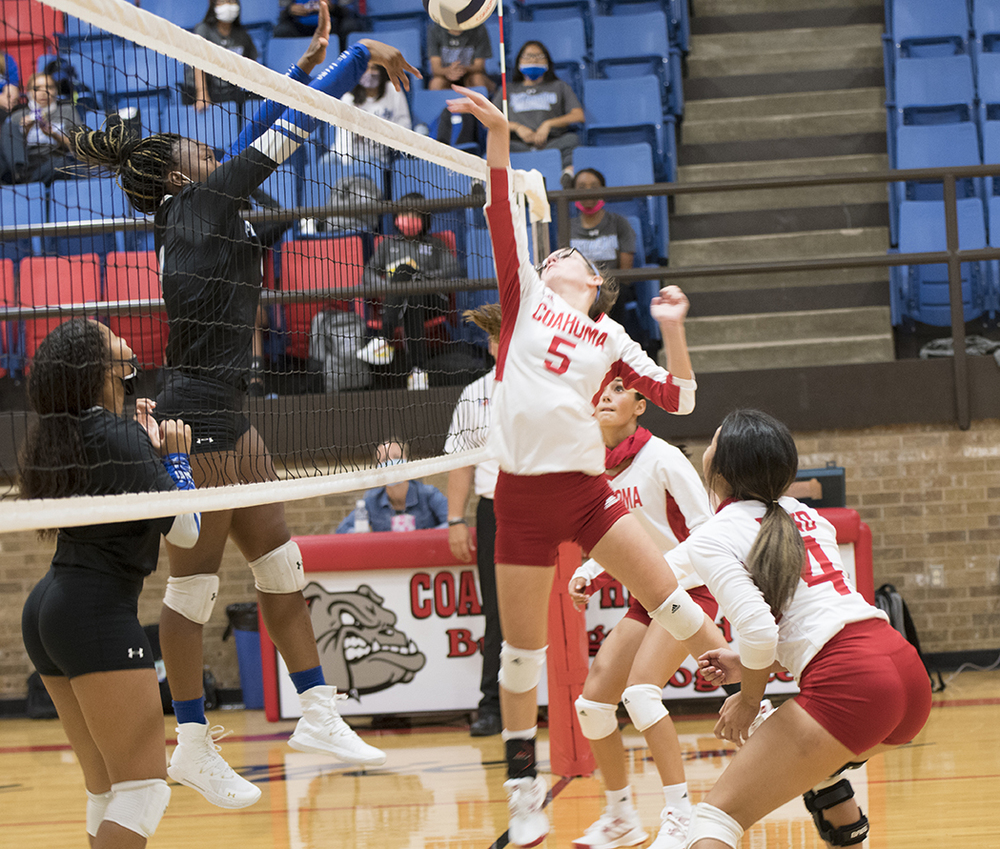 Bulldogettes earn big win over 4A Lady Matadors
Lyndel Moody
Wednesday, August 19, 2020
If the right attitude wins games then the Bulldogettes will have a very successful 2020 volleyball season.
After dominating the first set against Lubbock Estacado on Tuesday night, the Lady Matadors used their powerful offense to decisively win the second game forcing Coahoma to mentally regroup.
The Bulldogettes rose to the challenge and walked away with a win in four sets: 25-13, 12-25, 25-14, 25-18.
"This year our attitude is absolutely great. Everybody wants to win, everybody wants to work hard," said Coahoma senior Julia Cox. "We remembered why we were doing this and why we wanted to be here. We all decided that is not how we play, that is not our game, so we decided to turn it around. We did, and I am super thankful that we did."
Relying on her quick instincts, Cox made several critical saves off of solid blocks and hard hits by the Lady Matadors to keep Coahoma's momentum going throughout the match.
"That is just her athleticism," said Coahoma Head Volleyball Coach Jamie Bonner. "That is just her pure speed, quickness, and reaction time. She did an exceptional job of picking up on that. All our back row really did a great job on defense tonight picking up on those hard hits."
Cox had seven kills and four digs for the night. Her fellow classmate Ashley Romero was also a force on offense pounding out seven kills. Sophomore Christen Everett and freshman Isabella Cox added six and five kills, respectively, and Zoie Joslin had 23 assists.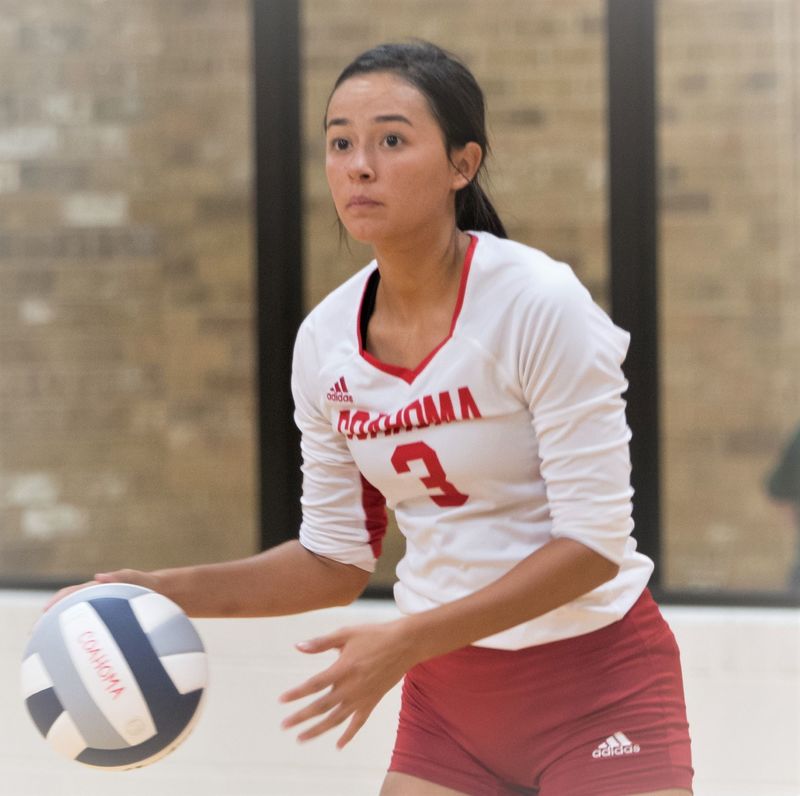 Julia Cox, Bulldogette outside hitter.
"This was a huge win for us because they are a very athletic team," Bonner said. "They can jump and block. Tonight, they got several blocks. Luckily we were quick enough and athletic enough to pick some of those up. They can put the ball down. I told the team, in volleyball they are going to get some good hits, but so are we. It was just who can outlast who."
If attitude is the key to success, Julia Cox thinks this Bulldogette team will go far this season.
"Our attitude toward this year is absolutely great, and I hope we maintain it throughout the year," she said. "Hopefully we get some big wins because I know we can definitely pull it off."
With no games scheduled for Saturday, the Bulldogettes will have a much deserved week to rest, recoup, and tweak their game skills before facing longtime rival, the Colorado City Lady Wolves, on Tuesday.
"We will be back to focusing on fundamentals and covering tips this week," Bonner said. "This team (Lubbock Estacado) didn't tip very much at all because they can put the ball down. We'll focus on basics and then try to get everybody healthy and a little bit of rest this weekend.
JV Action: White lost a close match in two sets: 24-26, 23-25. After falling behind early in both games, the freshman team clawed back within reach of a victory before Estacado nabbed the wins. Red easily won both sets: 25-12, 25-14.
Next: Coahoma (4-1) at Colorado City on Tuesday. JV Red plays at 5 p.m. followed by the varsity game at 6 p.m.
Coahoma DEF. 4A Lubbock Estacado: 25-13, 12-25, 25-14, 25-18
Aces: Kenzi Canales 1, Zoie Joslin 2, Christian Everett 1
Kills: Kenzi Canales 1, Julia Cox 7, Ashley Romero 7, Christen Everett 6, Isabella Cox 5, Sophie Biddison 2.
Blocks: Sophie Biddison 1.
Assists: Zoie Joslin 23, Christian Everett 1.
Digs: Kenzi Canales 4, Julia Cox 4, Zoie Joslin 1, Christian Everett 4, Isabella Cox 4, Shae Lang 1.