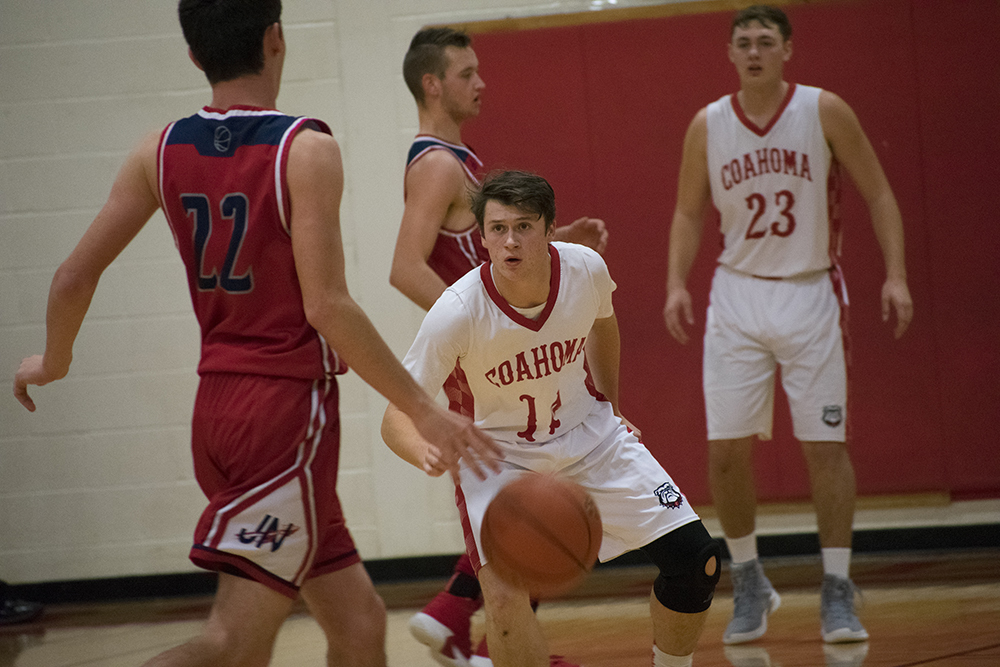 Bulldogs fall to Indians
Lyndel Moody
Sunday, December 23, 2018
The Bulldogs lost to a tough Jim Ned Indian team Friday night 26-59 in their first district 5-3A game of the season.
The Indians came into the match having already built up a strong 11-2 win record for the season including a victory against Clyde last Tuesday in their first district game. However, the Bulldogs make it clear from the first they were there to compete.
For the first two minutes of play, both teams played heavy defense not allowing any score. Finally, Jim Ned's Dylan Bryant broke the stalemate by nailing one of his two free throws.
The Indians followed by two more free throws, a 3-point basket, and a 2-point field goal before Bryson Cline got the Bulldogs on the board by nailing a shot for 2 at the 3:22 mark. Cline added 2 more points from the charity strip before the first quarter was over.
Jim Ned headed into the second up 4-13 with 8 of those points coming from free throws. Coahoma fared better in the second although Jim Ned continued to outscore the Bulldogs. Cline, Joe Manning, Gaige Hill, and Gage Clark-Burdell scored a total of 6 points while the team was successful at keeping the Indians to just 9 points. However, Jim Ned left for the locker room with a 12-point advantage.
Returning for the second half, Jim Ned broke the game wide open by scoring 25 points in the third while holding Coahoma to just 3. Not ready to give up, the Bulldogs had their best quarter in the fourth and outscored Jim Ned 13-12. Clark-Burdell brought a little excitement to the tense game when he picked off the ball from a Jim Ned player and raced down the court for a slam dunk.
Even with the last quarter surge, the Bulldogs were unable to chip away the huge lead before the end of the game.
Cline led the Bulldogs with 9 points followed by Manning with 7.
Next: The Bulldogs will spend part of their Christmas break in Reagan County playing in the Mary Tatum tournament set for Friday and Saturday, Dec. 28-29. The Coahoma varsity boys team will return to district play on Jan. 4 in Stanton against the Buffaloes.
JIM NED 59, COAHOMA 26
Jim Ned: 13, 9 25, 12 — 59
Coahoma: 4, 6, 3, 13 — 26
Jim Ned — Rhett May 5, Bay Brannan 4, Cortland Baum 4, Ethan Senne 18, Caden Martin 2, Cade Ford 3, Caden Burke 11, Alex Rosales 3, Dylan Bryant 9.
Coahoma — Brice Martin 2, Joe Manning 7, Zack Schneider 3; Gage Clark-Burdell 3; Gaige Hill 2, Bryson Cline, 9.
Free Throws — Jim Ned 18-25, Coahoma 12-25; 3-Point Goals — Jim Ned 5 (Senne 3; Rhett, Burke); Total Team Fouls — Jim Ned 20, Coahoma 19.
Bulldog JV vs Jim Ned
The Coahoma Bulldogs JV team lost to Jim Ned 21-32 at home Friday night.
Tony Haggins had a game high of 7 points including a 3-point goal to the lead the Coahoma team at the post. Teammates Avery Burgan and Garrett Anderson both added 4 points each.
Next: The JV team will enjoy a couple of weeks off for the mid-semester break and will return to action on Jan. 4, when they head to Stanton to take on the Buffaloes.
JIM NED 32, COAHOMA 21
Jim Ned: 5, 12, 8, 7 — 32
Coahoma: 6, 4, 7, 4 — 21
Jim Ned — Duncan 3, Noland 3, Smith 3, Lukenbach 7, Chavez 3, Barron 2, Tant 1, Martin 6, Hussman 4.
Coahoma — Avery Burgans 4, Isaiah Martin 2, Sean Striegler 2, Tony Haggins 7, Dakota Harrison 2, Garrett Anderson 4.
Free Throws — Jim Ned 8-16, Coahoma 0-2; 3-Point Goals — Jim Ned 4 (Duncan, Smith, Lukenbach, Chavez), Coahoma 1 (Haggins); Total Team Fouls —Jim Ned 7, Coahoma 14.