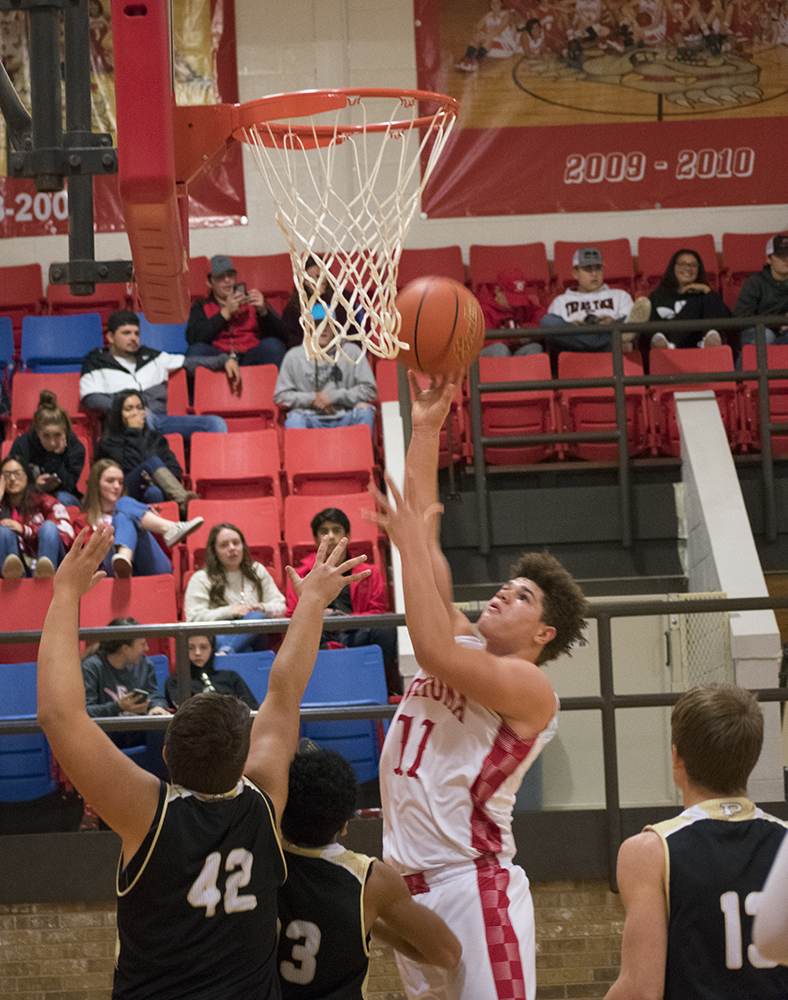 Bulldogs fall to the Antelopes
Lyndel Moody
Saturday, December 15, 2018
In a hard-fought game, the Bulldogs couldn't come back from a 15-point, second half run by the Post Antelopes to lose 54-42 Friday night.
The Bulldogs led early in the first. Bryson Cline, Gaige Hill and Gage Clark-Burdell built a 5-point advantage for Coahoma but with 3:17 left, an Antelope player buried a shot behind the arc to cut the lead to 2.
Clark-Burdell, who earned all 10 of his points in the first half, dropped the ball into the net for 2 then Post tied the game at 10-all. Soon after, Zack Schneider netted one of two free throws to retake the lead for the Bulldogs. Brice Martin upped the score by 2 more with 1:14 left, but Post netted two 3-point goals back-to-back to end the quarter up 16-13.
The Antelopes started to pull away in the second building a 6-point lead until the Bulldog's offense went to work. Cline buried the ball for 2 at the 2:20 mark and followed by nailing both free throws. Clark-Burdell added 4 more points as the Bulldogs headed to the locker room up 24-25.
Joe Manning started out the second half with a layup to pad the score 24-27 for the Bulldogs. Post surged back then baskets by Schneider tied the score twice at 29-all and 31-all.
As the clock ticked down from 3:40 in the third, the Antelopes went on a 15-point run which lasted into the fourth and ended with two back-to-back 3-point goals. Then, with Schneider leading the way, Coahoma made one last attempted comeback and managed to narrow the deficit down to 7. However, the Antelopes hit four free throws in a row to up the score 52-41.
Schneider nailed one more free throw, then the Bulldogs ran into foul trouble in an attempt to take position of the ball. The Antelopes easily dropped in two more baskets at the charity strip before time ran out for the game.
Schneider led his team with 12 points and Clark-Burdell added 10 more to the score for the match. Cline was dead accurate at the charity strip going 4 for 4.
Earlier in the evening, the JV Bulldog team won against Post, 46-28.
Next: The Bulldogs head to Roscoe Tuesday to take on the Plowboys.
POST 54, COAHOMA 42
Post: 16, 8, 13, 17 — 54
Coahoma: 13, 12, 8, 9 — 42
Post — Slayden Pittman 12, Josiah Ward 2, Taytem Thetford 20, Nathan McDaniel 11, Jeremiah Martin 3, Jayden Bustoz 1, Treyson Crow 2, Jadin Reece 3.
Coahoma — Brice Martin 4, Joe Manning 8, Zack Schneider 12, Gaige Hill 2, Bryson Cline 6, Gage Clark-Burdell 10.
Free Throws — Post 8-16; Coahoma 8-12; 3-Point Goals — Post 8 (Pittman 2, Thetford 3, McDaniel, Martin, Reece); Total Team Fouls — Post 15; Coahoma 17.