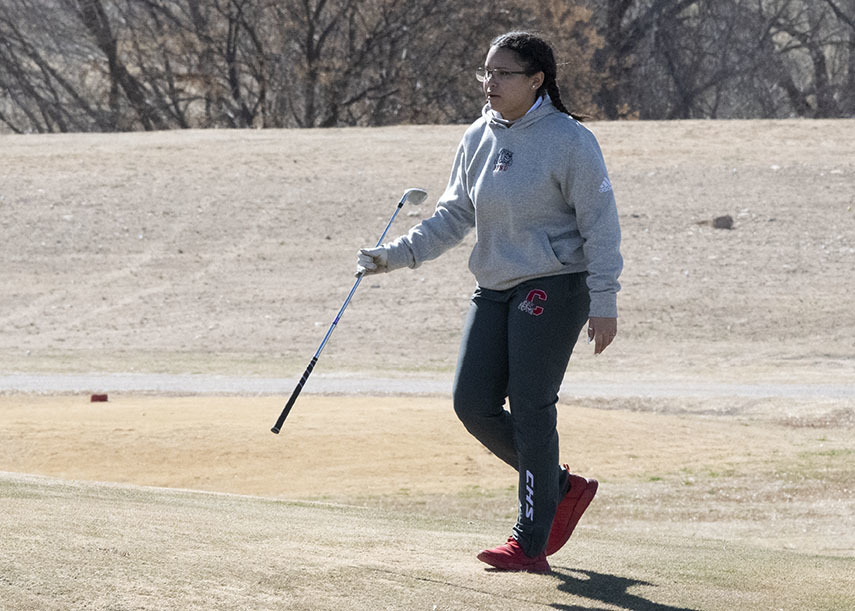 Dickson, Shifflett medal at Garden City HS golf invitational
Lyndel Moody
Sunday, February 28, 2021
The Coahoma High School golf team began the season Wednesday at the Garden City High School Invitational held at the Comanche Trail Golf Course in Big Spring.
Overall, the Coahoma girls team finished second with a score of 453, which was just two strokes behind the first place team, Forsan. The Bulldogs ended the match in third place with a score of 413.
Providence Dickson led the way for the Bulldogettes. The CHS senior fired off a round of 105 over 18-holes and finished third in the medalist standings. Makayla Chavex also performed well on the links. She carded a round of 111. Rounding out the girls team were Hartlie Smithie with a score of 115 and Zoie Joslin, who shot 122.
Ryan Shifflett had a team best of 87 for the Bulldogs, and his score put him firmly into the medalist standings. Shifflett tied for third place but lost in the scorecard playoff to Braden Welch of Grady. Billy Bailey finished second on the Coahoma team with a round of 100 followed by Rance Redden, who shot 105. Rounding out the Bulldog team, Rowdy Atkins and Aaron Turnbough posted marks of 111 and 115 respectively. Nick Gonzales shot 116, and Chris Thurman scored 135.
Garden City HS 18-hole Invitational
Comanche Trail Golf Course
Big Spring, Texas
Feb. 24, 2021
CHS GIRLS INDIVIDUAL STANDINGS: Providence Dickson 105; Makayla Chavex 111; Hartlie Smithie 115; Zoie Joslin 122. GIRLS MEDALIST STANDINGS: 1. Kadie Dalton, Garden City, 103; 2. Sara Tarbet, Forsan, 104; 3. Providence Dickson, 105. GIRLS TEAM STANDINGS: 1. Forsan 451, 2. Coahoma, 453
CHS BOYS INDIVIDUAL STANDINGS: Ryan Shifflett 87; Billy Bailey 100; Rance Redden 105; Rowdy Atkins 111; Aaron Turnbough 115; Nick Gonzales 116; and Chris Thurman 135. BOYS MEDALIST STANDINGS: 1. Nick Lara, Garden City, 78; 2. Will Maddox, Colorado, 81; 3. Braden Welch, Grady, 87 **; 3. Ryan Shifflett, Coahoma TEAM STANDINGS: 1. Garden City No. 1 360, 2. Forsan 379, 3. Coahoma 413, 4. Reagan County 464, 5. Garden City No. 2 493
** Won scorecard play-off