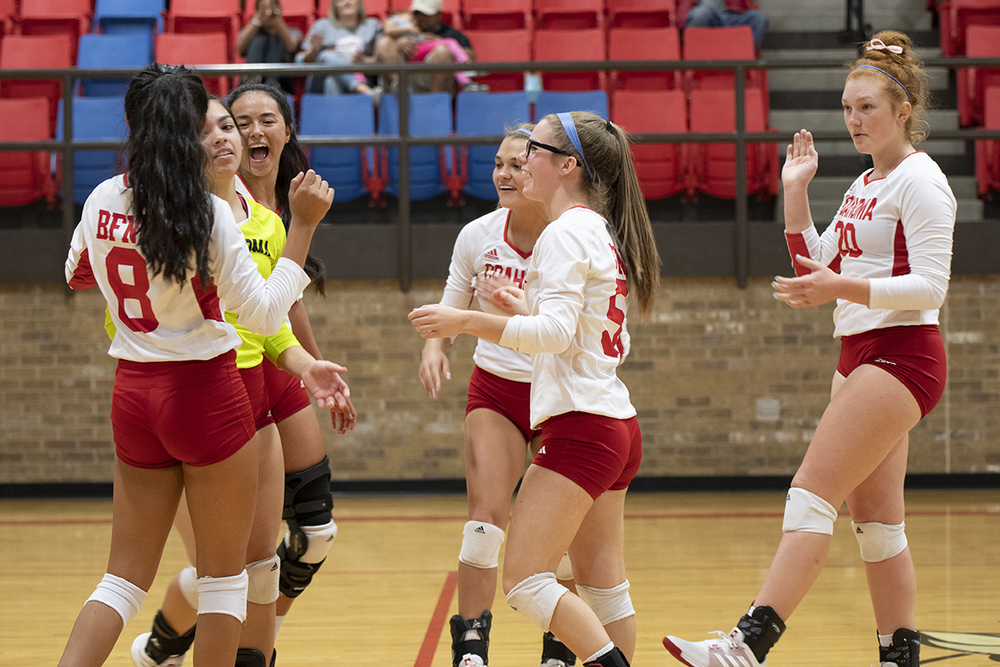 Bulldogettes take Compass Academy in 3
Lyndel Moody
Monday, October 19, 2020
Two big digs by sophomore Christian Everett helped to disrupt an Odessa Compass Academy comeback which the Bulldogettes took full advantage of to earn a huge district win on Saturday.
"We've been talking about how one play can change the momentum of the game and change the outcome of the game," said CHS Head Volleyball Coach Jamie Bonner. "We have been talking about how we have to do all the little things. I think they really took that to heart because they understand doing the little things right makes the big plays happen for us. Those two plays by Christian were huge, and I think it gave us the mentality to finish."
The outcome of Saturday's game was a reversal of when the two teams met during the first round of district. Compass left the victor after winning the tie-breaking fifth set, 15-17. This time, Coahoma defeated the Lady Cougars in three sets: 25-15, 25-15, 25-21.
Heading into that third set, the Bulldogettes rode the momentum to an early seven-point lead over the Lady Cougars. However, Compass Academy started to rally and got within one point of a tie.
"At the beginning of the set we were really on top of things then we started losing our momentum," said Bulldogettes outside hitter Julia Cox, who had 11 kills for the day. "At the time out, we decided we needed to step back up and pull it all together and hopefully get a win."
Ashley Romero, middle blocker for the Bulldogettes, added communication within the team was key to the win.
"We worked as a family and worked hard," she said.
Everett's timely digs not only prevented certain kills but gave a shot of energy throughout the team.
"When Christian or anybody on our back row is getting digs, it pumps us up," Cox said. "All respect to other teams, they can really hit the ball, but I am glad we have back row players who can certainly pick it up, so it gets all of us ready to get a set and get a hit and get a kill."
With the win, Coahoma improves 3-3 in district and 12-4 for the season, but will face two more challenging games this week with Sonora on Tuesday and Crane on Saturday.
"We worked hard this past week to prepare for today's team," Bonner said. "We have to have the same mentality going into the next two games. We know they are going to be tough games, but I think they proved to themselves that they can play with anyone in our district."
Sub-varsity scores: JV White won 2-1 over Forsan (18-25, 25-9, 25-20); JV Red beat Compass 2-0 (25-19, 25-20).
Next: Coahoma is on the road for a rematch against Sonora on Tuesday. Games times are 5 p.m. for JV Red and 6 p.m. for varsity.
Coahoma (3-3, 12-4) DEF. Odessa Compass Academy (4-3, 11-6): 25-15, 25-15, 25-21.
Varsity Stats:
Aces: Kenzi Canales 1, Zoie Joslin 1.
Kills: Julia Cox 11, MaKynlee Overton 8, Ashley Romero 4, Isabella Cox 1, Madison Rodgers 1.
Blocks: MaKynlee Overton 1, Julia Cox 1.
Assists: Zoie Joslin 21, Isabella Cox 1.
Digs: MaKynlee Overton 7, Julia Cox 6, Isabella Cox 5, Christian Everett 5, Kenzi Canales 5, Ashley Romero 3, Zoie Joslin 2, Madison Rodgers 2.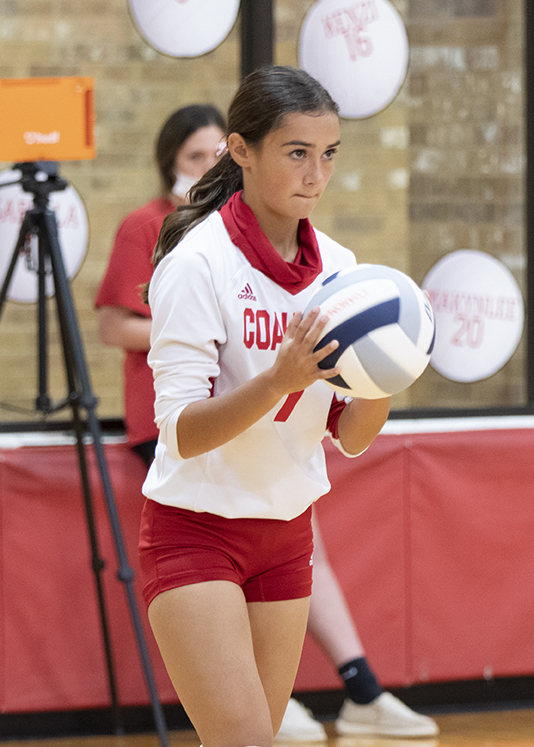 Christian Everett