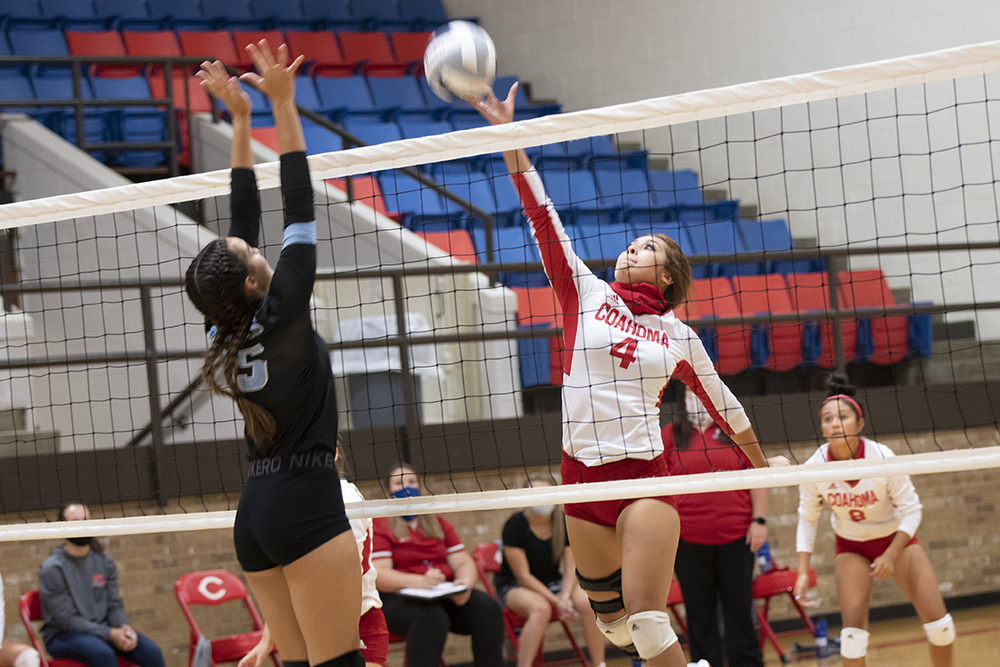 Bulldogettes beat San Angelo TLCA
Lyndel Moody
Friday, September 04, 2020
Any worries Coahoma Head Volleyball Coach Jamie Bonner may have had about her team being out of practice after two weeks off from competition were put to rest Tuesday night.
The Bulldoggetes played like a well-oiled machine beating San Angelo TLCA in three sets — 25-19, 25-23, 25-15.
"I talked to them about being off," Bonner said. "I told them we can't let not having a game or two or three games stall us with what we want to achieve. They responded really well.
"The overall leadership from our seniors was a major factor in our win tonight," she continued."They kept us going and kept the momentum going on our side. The overall athleticism shown by this team, their all-out heart and hustle by all of our kids, is making the difference."
Both teams played a hard-hitting, physically aggressive game for the first two sets. All evening the Bulldogettes were hawkish in blocking or chasing down attack shots with one thing in mind. Keep the ball alive.
Coahoma took an early lead in all three sets although the Lady Eagles stayed in the game keeping the score close in the first two matches. By the third set, the Bulldogettes built up a 10-point advantage by the time the Lady Eagles began a second-half rally. Coahoma ended the match earning three points in a row with Christian Everett serving.
Everett had one ace for the evening. MaKynlee Overton led the Bulldogettes with seven kills, four blocks, and five digs. Julia Cox had six kills and Zoie Joslin had 19 assists.
Since returning to the court this after sitting out last season because of an injury, Ashley Romero has been an all-around player for the Bulldogettes.
"Since day one when she set foot on the court this year, she has worked her tail off," Bonner said. "She played extremely well tonight. She showed out for us — getting her hands on the ball, bocking for us. She was an all around player tonight. She did a phenomenal job."
Romero, who had five kills and three blocks for the game, said she was just glad to be back on the court.
"I love being part of my team," she said. "I love how we are working together and I missed the excitement."
And she is hoping to cap off her senior year with a long season.
"How we are playing and how we are playing as a family, it feels amazing," she said. "That is how every team should play - as a family. We all have fun both in practice and on the court."
Now the Bulldogettes will turn their eyes south towards Grape Creek on Saturday for a rematch against the Lady Eagles, who gave Coahoma its only loss of the season.
"Last time, they did a lot of tipping," Bonner said. "We are going to do a lot of tip coverage for the rest of the week in practice. We are used to teams that constantly hit the ball. Grape Creek saw that was a weakness of ours, so they tipped a lot. We also didn't play our best offense when we played them last. I told them let's celebrate this win, but our focus is on Saturday."
JV Bulldogettes vs TLCA: White lost in two sets: 17-25, 12-25. Red lost in three: 16-25, 25-21, 23-25.
Next: Coahoma (5-1) at Grape Creek on Saturday. JV White plays at 10 a.m. followed by JV Red at 11 p.m. The varsity game begins at noon. Tickets must be purchased in advance. Ticket sales are at https://www.grapecreekisd.net/...
Coahoma DEF. TLCA - San Angelo: 25-19, 25-23, 25-15
Varsity Stats:
Aces: Christian Everett 1.
Kills: MaKynlee Overton 7, Julia Cox 6, Ashley Romero 5, Christian Everett 5,
Blocks: MaKynlee Overton 4, Ashley Romero 3, Isabella Cox 1
Assists: Zoie Joslin 19, Christian Everett 1, Isabella Cox 1
Digs: McKynlee Overton 5, Kenzi Canales 3, Madison Rodgers 3, Julia Cox 1, Christian Everett 1