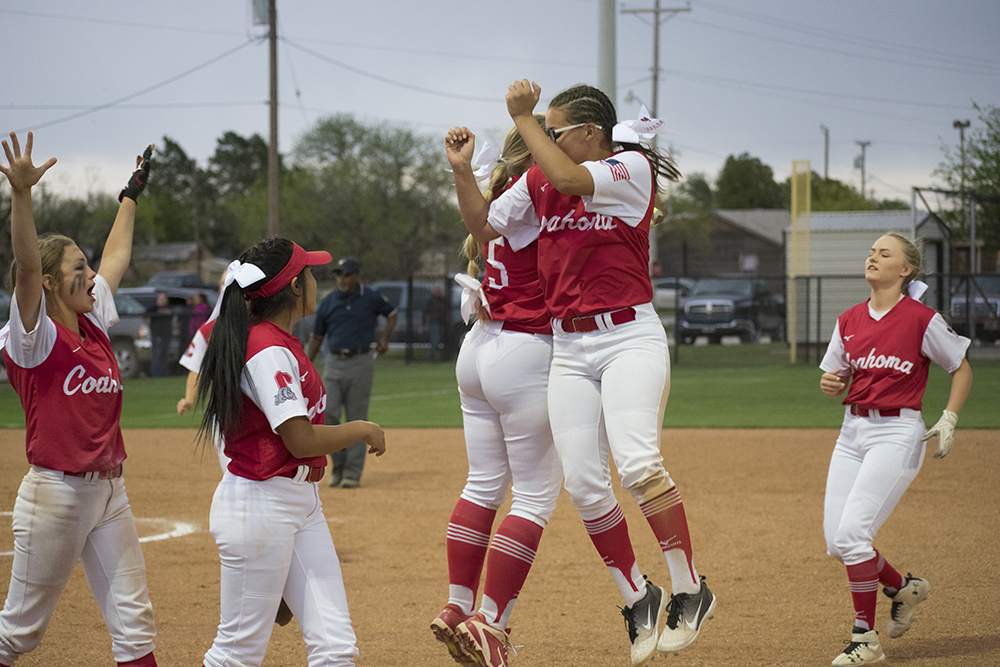 Bulldogettes cage Lady Tigers
Lyndel Moody
Sunday, April 14, 2019
ANSON — Jaydan Mann had a five RBI day to help lead the Bulldogettes to their third straight district win Friday night against the Anson Lady Tigers. Coahoma won 13-6.
Mann started off the Bulldogette offense in the first inning by scoring a run after Caitlyn Corley singled on a fly ball to right field. Coahoma broke open the game in the third inning driving in five runs and padded the score five more in the top of the seventh inning.
However, the Lady Tigers were not quite ready to call it a night. Whitney Wilson started off an Anson seventh inning rally hammering a double on a fly ball to center field which drove in a run. Anson earned three more to narrow the score 13-6. However, Coahoma's pitcher MaKynlee Overton shook off the setback and shutdown the Lady Tigers' rally first with a ground out and then a strike out.
Mann went 4-for-5 at the plate with three runs and five RBIs for the game. Cassie Grant was 3-for-4 with one run and two RBIs. Lexi Montelongo, Corley, Kaylor Green, and Overton had two hits a piece. Overall, Coahoma out hit Anson 13 to 6.
Overton got the win for the Bulldogettes. She sacrificed nine hits over six runs and struck out six over seven innings.
Now the Bulldogettes set their sights on Colorado City to battle for the second place spot in District 5-3A. Coahoma hosts the Lady Wolves at 5 p.m. on Tuesday.
COAHOMA 13, ANSON 6
Coahoma: 115 001 5 -- 13 16 2
Anson: 100 001 4 -- 6 9 3
W — MaKynlee Overton, L — Landry Overby. 2B: Anson — Jessinia Hernandez, Whitney Wilson. HR: Anson — Overby. SB: Coahoma — Jaydan Mann, Lexi Montelongo; Anson — Trista McIntire 2, Gracie Feagan 2, Wilson. Pitches-Strikes: Coahoma — Overton 118-68: Anson — L. Overby 140-76.