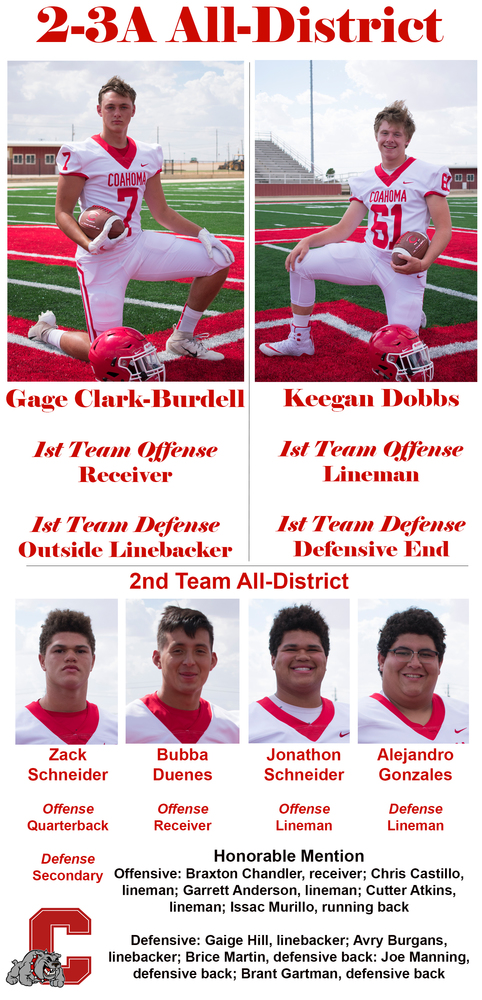 Clark-Burdell, Dobbs makes 2-3A All-District football team
Lyndel Moody
Monday, December 10, 2018
Coahoma Bulldogs Gage Clark-Burdell and Keegan Dobbs both landed on the first team offense and the first team defense of the 2018 District 2-3A Division II All-District Football Team.
Clark-Burdell was named first team receiver and first team outside linebacker. He earned 469 yards from 27 passes received for the season.
Dobbs was named first team offensive lineman and first team defensive end. Dobbs led the Bulldogs in sacks with 13.
Making the second team offense were: Zack Schneider, quarterback; Bubba Duenes, receiver; and Jonathon Schneider, offensive line. The following Bulldogs made the second team defense list: Z. Schneider, secondary; and Alejandro Gonzales, defensive line.
2018 2-3A, Division I All-District Football Team (Coahoma only)
1st team Offense:
Keegan Dobbs - Lineman
Gage Clark-Burdell - Receiver
1st team Defense:
Keegan Dobbs - Defensive End
Gage Clark-Burdell - Outside Linebacker
2nd team Offense:
Zack Schneider - Quarterback
Bubba Duenes - Receiver
Jonathon Schneider - Lineman
2nd team Defense:
Zack Schneider - Secondary
Alejandro Gonzales - Lineman
Honorable mention Offense:
Braxton Chandler - Receiver
Chris Castillo - Lineman
Garrett Anderson - Lineman
Cutter Atkins - Lineman
Isaac Murillo - Running back
Honorable mention Defense:
Gaige Hill- Linebacker
Avry Burgans - Linebacker
Brice Martin - Defensive Back
Joe Manning - Defensive Back
Brant Gartman - Defensive Back