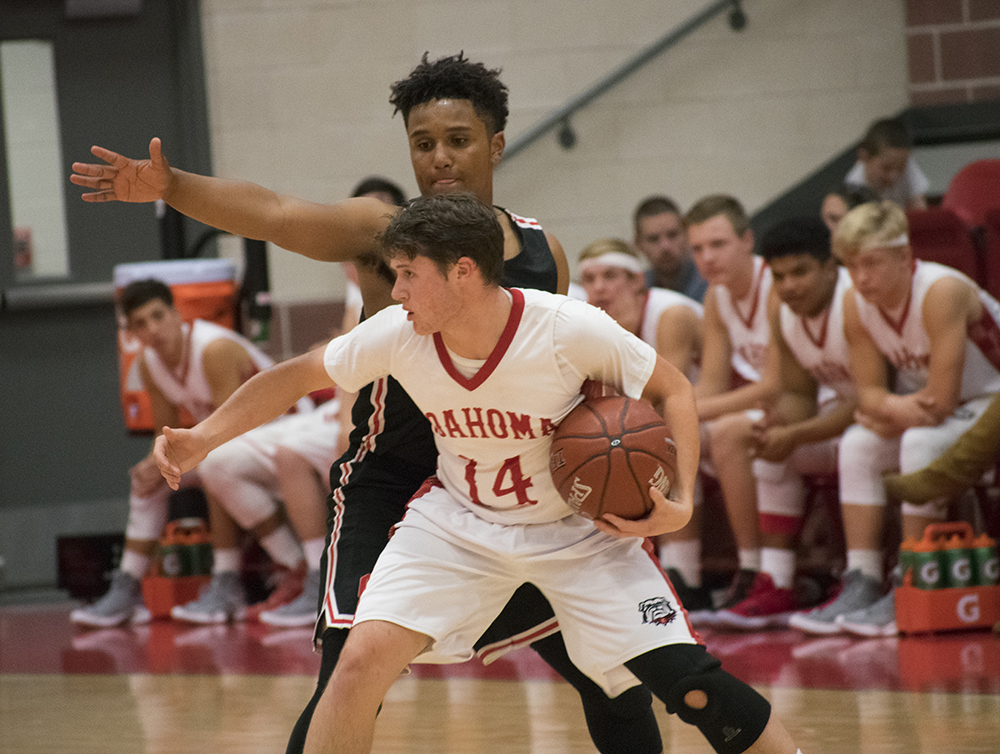 Coahoma boys split games at tourney
Lyndel Moody
Friday, December 07, 2018
STANTON — The Coahoma Bulldogs split their first two games of the Pinky Jones Hooptown Classic in Stanton Thursday.
Game 2 Coahoma vs Colorado City
STANTON — The Coahoma Bulldogs lost 48-62 to the Colorado City Wolves Thursday night in a wild, fast, hard-fought game between the two district rivals.
The final score doesn't relay how close and intense the match was. After racing back and forth between the two posts for the opening minute or so of the game, Joe Manning managed to drop the ball in for Coahoma for the first points of the match. Colorado City answered back quickly netting two 3-point goals in a row.
It didn't take long for Coahoma to respond. Bryson Cline buried a shot from behind the arc to add 3 points to the scoreboard. From then on, the two rival teams traded the lead back and forth during the first half of the game.
The Wolves came out on top by the end of the first quarter with a slim 1-point advantage but by halftime, the two teams headed into the locker room tied 25-all.
Back for the second half, Coahoma and Colorado City continued to play tight, fast ball for the first part of the third quarter then the Wolves started to slowly pull away. Heading into the fourth, the Bulldogs faced an 8-point deficit.
Missed shot and fouls were costly for the Bulldogs in the fourth quarter. The last 10 points earned by the Wolves came from the charity strip. Most of those goals were netted by Colorado City's Omar Boone, who had a game high of 30 points.
Cline lead the Bulldogs with 18 points followed by Zack Schneider with 17. Cline also netted three 3-point goals.
Coahoma: 15, 10, 10, 13 – 48 Colorado City: 16, 9, 18, 19 – 62
Coahoma: Brice Martin, 2; Joe Manning 5; Zack Schneider, 17; Bryson Cline, 18; Gage Clark 6;
Colorado City: Tracy Smith, 7; Markis Monroe, 10; Bubba Williams, 5; Omar Boone, 30; Jacob Munoz, 7
Free Throws – Coahoma 9-14; Colorado City, 18-24; 3-Point Goals – Coahoma 3 (Cline 3), Colorado City 6 (Monroe 2, Boone, Williams, Smith, Munoz); Total Fouls – Coahoma 13 ; Colorado City 15
Game 1 Coahoma vs Stanton JV
The Coahoma boys basketball team handily won their match against the Stanton JV Buffaloes 57-22 Thursday.
Gage Clark had a game high of 10 points followed by Zack Schneider with 9 and Joe Manning with 7 to help lead the Bulldogs to a victory.
Coahoma dominated the game from the beginning racking up a whopping 21 points in the first quarter alone while keeping the Stanton JV team to just 2. The Bulldogs continued to score in the double digits for the next two quarters while limiting the Buffaloes to single points throughout the game.
Next: Coahoma will play their last game of the tournament at noon Saturday against a yet to be determined opponent.
57-22 Coahoma: 21, 16, 12, 8 — 57 Stanton: 2, 6, 9, 5 — 22 Coahoma: Brice Martin, 5; Sean Striegler 2; Joe Manning, 7; Zack Schneider, 9; Marcus Martinez, 2; Gaige Hill, 5; Bryson Cline, 9; Gage Clark, 10; Burgans, 4; Kolt Redden, 4
Stanton: Austin Hewtty, 8; Bradden Waggoner, 2; Josh Hensley, 2; Nate Lopez, 4; Evan Cox, 2; Adrian De La O, 4
Free Throws — Coahoma 7-19; Stanton 6-20; Total Fouls — Coahoma 19; Stanton 12