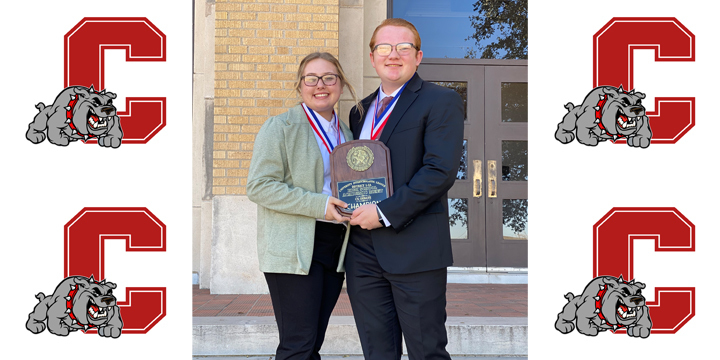 CX debate team wins 5-3A Championship
Lyndel Moody
Tuesday, February 09, 2021
Grayson Glidewelll and Aubrey Green used their wits to win the District 5-3A Cross Examination championship title on Monday.
Now the two will test their skills against the state's elite debaters at the top UIL competition, which will be held virtually on March 15-16.
At the district contest held in Crane, Glidewell and Green competed in six rounds and went 3-0 in the finals to finish first.
The duo, who are both seniors, have steadily improved their performance over the past three years. As sophomores, the Glidewell-Green team placed fifth in their first year as debate partners. In 2020, Glidewell and Green were the 5-3A District runners up and qualified for state competition. Unfortunately, the UIL state meet was cancelled because of the Covid-19 pandemic.
CX is a UIL sanctioned event where students are given a set topic to research at the beginning of the competition season. Competitors must prepare to defend both an affirmative and negative position. This year's topic is: Resolved, the United States federal government should enact substantial criminal justice reform in the United States in one or more of the following: forensic science, policing, sentencing.