Reminder- there will be no JV game this Thursday!

The JV game in Idalou will start at 6:30 this evening. #BFND #expecttowin

On Wednesday Coahoma High School will have hat day to contribute to Jeremiah Anzaldua's medical expenses. Bring your $1 and your hat to support one of our own! #BFND


This week: Monday: Financial Aid meeting 6pm in the auditorium Tuesday: Volleyball at home vs. Forsan Wednesday: College fair at Howard for Seniors 10am Friday: No school for students Let's make it a great week! #expecttowin #itsagreatdaytobeabulldog #BFND

Don't forget! Financial Aid Night September 30th 6:00 at the auditorium! Great info for our students on their way to college!

Mark your calendars! After Homecoming Friday night- head to Big Spring to support Bulldogette Volleyball on Saturday. Both JV games are @ 10 and Varsity @ 11. 🏐 🐾 #BFND #expecttowin


May EOC Test dates for High School Students: Tuesday May 7th Algebra Wednesday May 8th US History Thursday May 9th Biology

The Coahoma golf tournament scheduled on March 4th has been moved to Monday, March 11th. It is not mandatory for students who have prior spring break arrangements. If you have any questions please call Coach Nichols at 432-394-5000.

For more information about this ACT Prep workshop, contact Mrs. Brooks at
cbrooks@coahoma.esc18.net-
or give her a call at 432-394-5000! 🐾📚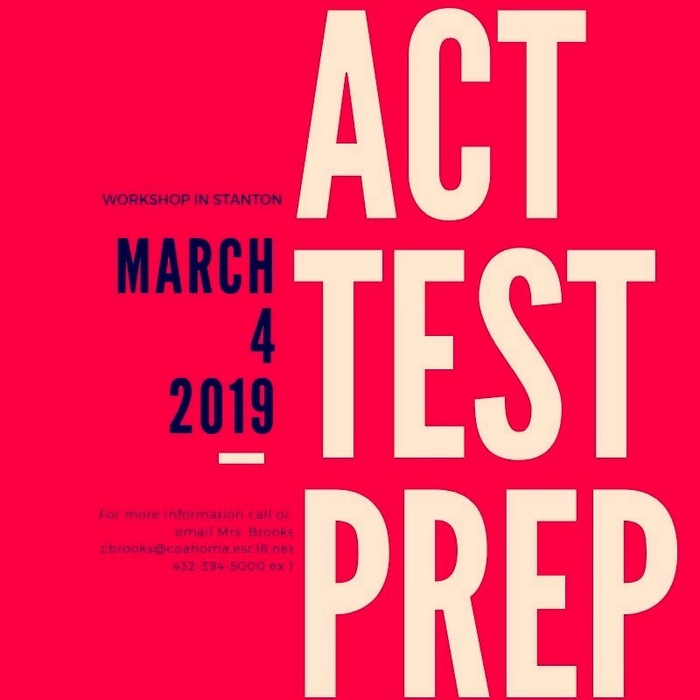 Please join us at 2:50pm in the High School gym to send off our Men's Basketball team to Abilene for their first playoff game in over 10 years! Tip off at 8:30 pm at ACU! #BFND

January 22nd basketball games have been cancelled!

STAAR EOC Re-Test Dates Monday December 3rd- English I Tuesday December 4th- Algebra Wednesday December 5th -English II Thursday December 6th- Biology & US History Students have been notified of their re-test date and room assignment. Please call 432-394-5000 with questions.

HS Games vs. Grady tonight are as follows: Girls and boys JV games Here in Comp Gym at 4 and 5:00 Girls and Boys Varsity at Howard College at 6:30 and 8:00

In order for our volleyball players to be able to play in our district game and also make it to the UIL band competition on Saturday, 10.20 we will be changing the game times. Game times IN Coleman as follows: Varsity @ 9:00 am, followed by JV Red @ 10:00, and JV White @ 11:00.

Today's Cross Country meet has been postponed. Will update with new day/time ASAP! #BFND

Volleyball schedule update: This Saturday, October 6, we will only play the JV Red and Varsity game. There will not be a JV White game. Game times are at 11:00 am and 12:00 pm. #BFND


High School Volleyball games against Reagan County have been cancelled. Next games will be Tuesday, September 18th in Andrews.

The Band Schedule has had some changes: Oct. 01- has been changed from a Monday Night rehearsal to the Big Country Marching Festival Oct. 15- has been changed from Big Country Marching Festival to Monday Night Rehearsal.

This week's pep rally will begin at 2:20 so that our teams can get on the road a little earlier! Don't forget to dress your best in your red, white and blue!

Tonight's JV game in Ozona has been cancelled! Please call the school if you have questions. Junior High will still play tonight at home! #itsstillagreatdaytobeabulldog

This week's Cross Country meet in Abilene has been cancelled. We will run next weekend in Snyder. Itinerary to come.

The volleyball game that was originally scheduled for Saturday, September 15 then moved to Thursday, September 13 against Reagan County has been cancelled.
Hat Day will take place tomorrow to help Hurricane Harvey victims. Bring $1!
The Bulldogettes placed another notch in the win column as the varsity girls beat the Sterling City Lady Eagles in four games (25-14), (14-25), (25-14), (25-15) at the Sterling City High School gym this morning.
CHS's Austyn Montgomery placed 5th in the meet.