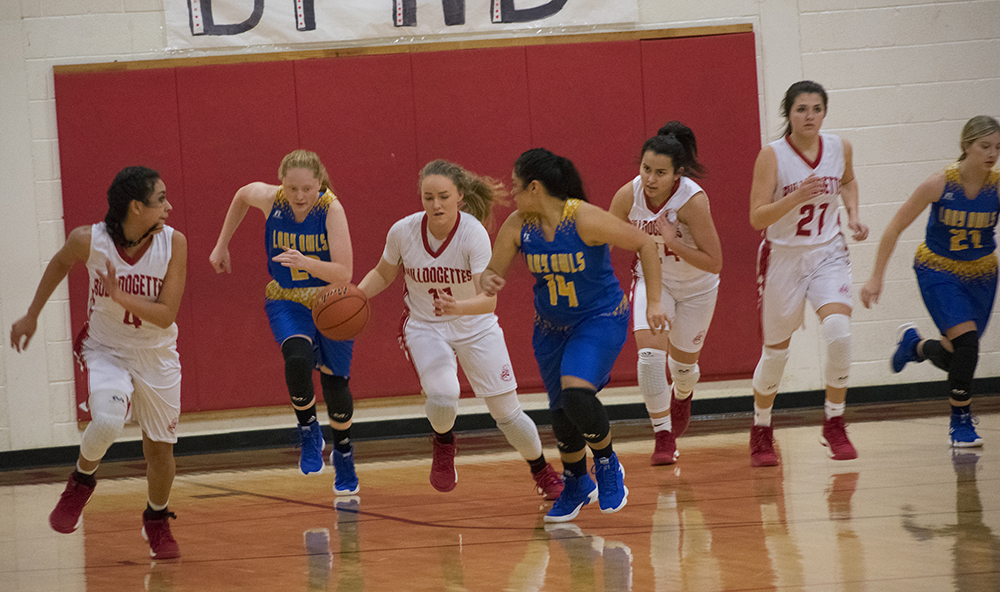 Bulldogettes withstand Owl attack
Lyndel Moody
Wednesday, December 05, 2018
COAHOMA — Bulldogettes fans were treated to an exciting ending as the Reagan County Lady Owls nearly wrestled away a Coahoma victory with seconds left in the game.
After trading the lead back and forth over three quarters in the close fought match, the Lady Owls went on a 7 point run in the last three minutes cutting down Coahoma's lead from 10 to 3. However, the Bulldogettes got position of the ball with seconds left and saved the 35-32 win.
Cailtyn Corley, who had a game high of 16 points for the night, and Cassie Grant were instrumental in the victory. Together, the two girls brought in 14 of Coahoma's 17 points in the second half.
In the first half, Reagan County sat on top with a 4 point lead by the end of the first quarter and a slight 2 point lead by the half.
Returning from the locker room, the Bulldogettes took control of the scoreboard when C. Grant buried a shot behind the arc to help the Bulldogettes take over 21-20. Then field goals by Corley and Paige Atkins, who also went 4-4 at the charity strip, widen the score to 28-25 by the end of the third quarter.
Combined, Corley and Grant added 7 more points to give Coahoma a 10 point cushion in the fourth then the Lady Owls made their run.
Next, the varsity Bulldogettes will compete in the 3 day Hooptown Classic tournament hosted by Stanton ISD. Coahoma faces Big Spring for the first game at 9 a.m. Thursday.
Earlier in the evening, the Bulldogette JV team lost to Reagan County, 22-37.
Coahoma Bulldogettes vs Reagan County Lady Owls
Coahoma: 8, 10, 10, 7 — 35
Reagan County: 12, 8, 5, 7 — 32
Coahoma — Macee Grant, 2; Caitlyn Corley, 16; Paige Atkins, 8; Jovi Gonzales, 2; Abby Lopez, 1; Cassie Grant, 6.
Reagan County — M. De La Cruz, 2; C. Flores, 4; S. Sosa, 4; N. Goodloe, 2; S. Darr, 2; P. Baggett, 3; C. Cervantes, 2; M. Hernandez, 13
Free Throws — Coahoma 6 - 12; Reagan County 6 - 11 ; Three Point Goals — Coahoma 1 (C. Grant); Total Fouls — Coahoma 16; Reagan County 13